Christian, Jewish and Sikh organizations join hands to reject violence, discrimination
By Ali Imran – the article first appeared at Views and News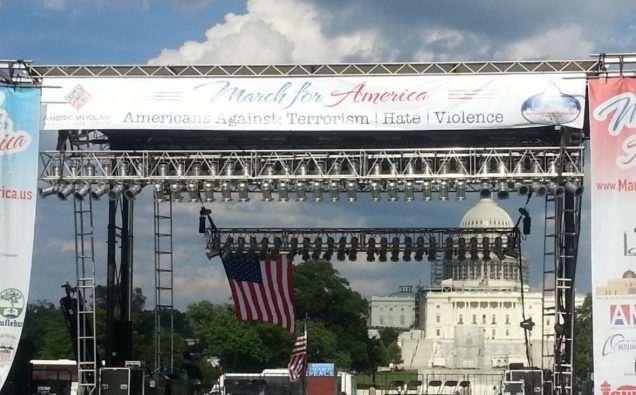 American Muslims, who gathered on the National Mall on Saturday said they are in the nation's capital with a message of peace and unity in the face of violence and discrimination.
Interfaith leaders from Christian, Jewish and Sikh organizations also joined March for America Rally, stressing that American need harmony, mutual respect and unity to fight discrimination and hate while protecting constitutional rights of all citizens.
Hundreds of participants braved out oppressive heat to attend the rally, as mercury soared to around 100 Fahrenheit.
The gathering took place in the middle of an intense political season, when Muslims are facing backlash in the backdrop of acts of violent extremism like ISIS-linked bombings in Europe and shootings in San Bernardino and Orlando.
Some politicians including Republican presidential candidate Donald Trump and former House Speaker Newt Gingrich have respectively proposed blanket suggestions like banning Muslims from entering the United and giving American Muslims a faith test.
Interfaith leaders, civil society organizations, and prominent Democratic leaders have discarded such calls as anathema to America's inherent pluralism and constitutional commitment to equality and rejection of any kind of discrimination based on faith of citizens.
Speaking to Views and News before start of the rally, Imam Mohamed Mgid, Executive Director of the All Dulles Area Muslim Society (ADAMS), said the diverse gathering of interfaith leaders in front of the Capitol building represents message of peace and opposes hate.
"Islam is a religion of peace and compassion … we are against hatred, violence, extremism and discrimination.
"America is beautiful as one unit — like a bouquet of flowers, whoever tries to tear it apart is not serving America," he said, referring to America's unity with its social fabric assimilating cultural and ethnic diversity.
The Imam noted that American Muslims are playing an important role in fighting violent extremism.
Pakistani-American doctor Tariq Shahab emphasized the point that just as shooters elsewhere do not represent entire communities, attackers in San Bernardino and Orlando are not representatives of American Muslims.
"Neither Islam nor any other faith condone killings of innocent human beings," he said in his speech to a gathering of Muslims and representatives of interfaith communities.
Dr Shahab also quoted from Martin Luther King saying only love can drive out hate.
"Time for Love, Compassion, Respect and Tolerance for all."
Walter Ruby, representing Foundation for Ethnic Understanding, said his organization stands by American Muslims in the face of some hostile political rhetoric and that the Jewish people perfectly understand their predicament when politicians call for banning the entire Muslim communities from entering the United States.
Dr. Maqsood Chaudhry, an interfaith leader, who heads the Grove Dental Clinic, said American Muslims stand for peace, love and brotherhood and they reject voices inflaming hatred, discrimination and divisions.
Imam Ali Siddiqui, an active interfaith leader, also called for harmony among Americans of all backgrounds to grapple with challenges.
Dr Rajwant Singh, chairman Sikh Council on Religion and Education, backed American Muslim leaders' call for peaceful coexistence and collective efforts against violence and discrimination.
He said the Declaration of Independence clearly gives freedom to all and that politicians have a larger responsibility to emanate the message of equality.
Mike Ghouse, an active interfaith voice in the metro area, said Americans Muslims share the dream to be part of American story, and to this end they are serving with hard work and distinction in wide-ranging areas of endeavor.
"Muslims have come a long way in expressing how they feel about the misinformed rhetoric about Muslims; they have learned to do it boldly and loudly. Every Muslim in America wants to speak out against extremism, hate and violence, and the March for America program is a beautiful expression that sentiment. It is the reflection of the will of American Muslims," he said.
A number of participants echoed the spirit of America as a nation of immigrants from around the world and American Islam's call for "Peace Truth Unity."
Speakers emphasized that nobody should ever perpetrate violence and extremism, as all faiths urge harmony, conversation and engagement. At the same time, they appealed to all Americans to shun sweeping portrayals of Muslims and oppose discrimination in all its forms.
Nuchhi Currier, President Woman's National Democratic Club, also led a group of participants at the rally, vehemently opposing bigotry, hate and gun violence.
Young participants lined up the entrance to the venue, displaying messages of love, brotherhood, and common humanity, as interfaith activists and leaders from Washington metro area spoke to express the importance of American dream and constitutional rights for all citizen irrespective of their religious or ethnic backgrounds.